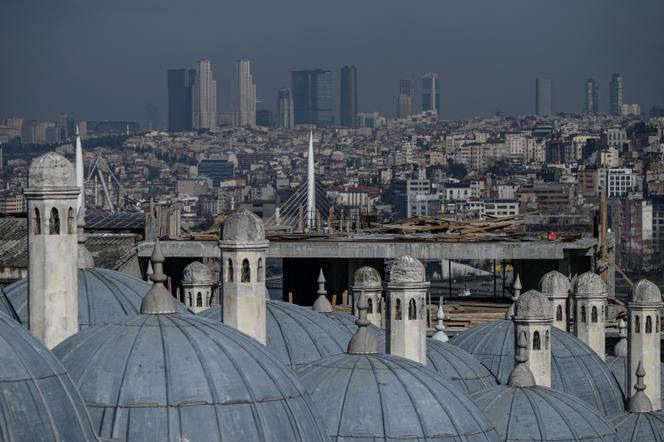 Sitting on a bench in the gardens of a peaceful residence, Esra Yilmaz (the name has been changed) looks up at the imposing beige building opposite her. "Our building is fifteen stories high. There are about sixty apartments, but ours is in the basement"explains the housekeeper, 43, with drawn features.
She, her husband and her two children settled eight years ago in Erenköy, a quiet district on the Asian side of Istanbul. But since the double earthquake that devastated the south-east of Turkey on February 6 (and which caused 48,000 deaths in the country according to the latest report), Esra no longer sleeps: "I am very anxious. I can only hold on by taking antidepressants. Every night, I put a glass of water and some cookies at the foot of my children's bed just in case. (a new earthquake occurred)because if the building collapses, we will be the last to be rescued", she continues.
Her husband Hüseyin, seated next to her, nervously puffs on his cigarette and shakes his head in disagreement: how can you hope to come out safe and sound from such a basement? Like millions of Turks, Esra and Hüseyin were horrified when they saw the images of the disaster in the southeast of the country. Images that had a special resonance in Istanbul.
Alert on the approach of the "Big One"
Since the Izmit earthquake in 1999, the official toll of which amounted to 17,480 victims (in reality, probably much more), the country's seismologists have constantly warned of the approach of the " Big One" – an earthquake of magnitude greater than 7 on the Richter scale off Istanbul – which could be the deadliest in the country's history if large-scale structural reinforcement measures are not taken. taken on time in the megalopolis.
The couple had always been aware of the seismic risk, but the horror of the Kahramanmaras disaster acted as a realization of the reality of the threat. So, with a heavy heart, they made the decision to leave the city and resettle in their region of origin, in Ordu, on the shores of the Black Sea: "I would very much like to stay in Istanbul, but we have no choice. The price of rents has exploded… 20,000-25,000 Turkish liras (1,000-1,200 euros)… it is more than the minimum income", laments Esra, whose income is dwindling under the effect of skyrocketing inflation.
Read also:
Article reserved for our subscribers

After the earthquake, Turkey never stops counting its dead
Since the earthquake of February 6, Istanbulites have kept their eyes glued to the Twitter account of the Kandilli observatory, which records in real time the movements of the country's tectonic plates. Comments are rife on social media and seismology seems to have turned into popular science, much to the chagrin of scientists.
You have 58.4% of this article left to read. The following is for subscribers only.