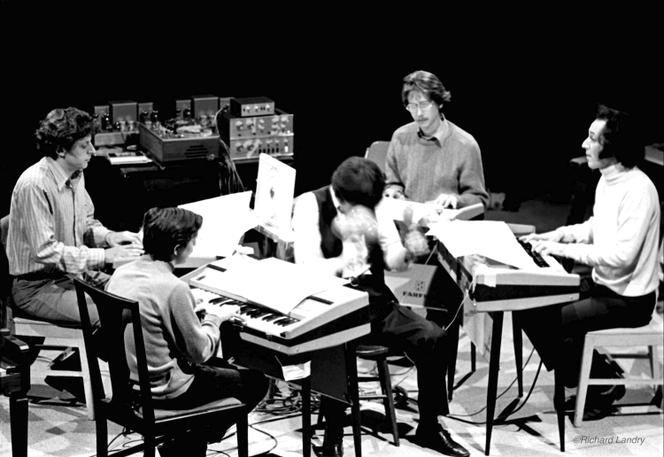 During the confinements, there were many projects in which the musicians got involved. In most cases, they resulted in works or records, more rarely in books like the one that appears in French today at Allia editions. These Conversations with Steve Reich prove to be invaluable both for accessing the world of the American composer born in 1936 in a lively way and for preparing to listen to his most important works. Like Drumming (1971), which will be given on March 11 at the Théâtre de la Cité internationale in Paris by the Ensemble Links.
Carried out, in the majority of cases, on Zoom in 2020 and at the beginning of 2021, these exchanges take place like a word-based score in which each of the nineteen speakers, a majority of musicians (composers, performers) but also a few representatives of the artistic world (sculpture, video, dance) and a record producer, plays their part. They all begin by talking about their first meeting with Steve Reich or his music. The composer David Lang takes the opportunity to question his eldest on the main stages of his training. Bach, Stravinsky and jazz emerge from memories brought back with an undeniable gift for storytelling.
Decided to become a drummer and set up his own group by following the example of Kenny Clarke, the young New Yorker was later invited to resume piano studies by his first master, Hall Overton, and to work THE Mikrokosmos of Bartok – "a council of solid gold ", he assures retrospectively. Just like Luciano Berio's later encouragement to listen Gesang der Jünglinge (1956) by Karlheinz Stockhausen, a model of music on tape which would lead to the composition of It's Gonna Rain.
The meeting with Terry Riley, with participation in the creation of the mythical In C (1964), standard-bearer of minimalism, the trip to Ghana in 1970, which resulted in a return to percussion, "from which derives Drumming »and odd jobs draw a biographical line that only appears in the background of these Conversations. " Drumming is the one who made a date in my life "says David Lang. For Brian Eno, it's It's Gonna Rain who counted the most and who got Steve Reich to play "an immense role in what has become ambient music".
"Feeling of apocalypse"
Back on It's Gonna Rain with visual artist Richard Serra. The work evokes the end of the world based on the story of Noah ". It was designed in 1965, just after the Cuban Missile Crisis. "At the time, this feeling of apocalypse was nothing abstract for me, and for others either, I think. » Going from one part of the book to the next by treating the same work a little differently corresponds to the principle of phase shift which characterized the music of Steve Reich between 1967 (Piano Phase) and 1971 (Clapping Music, Drumming), all in infinitesimal variations.
You have 42.93% of this article left to read. The following is for subscribers only.