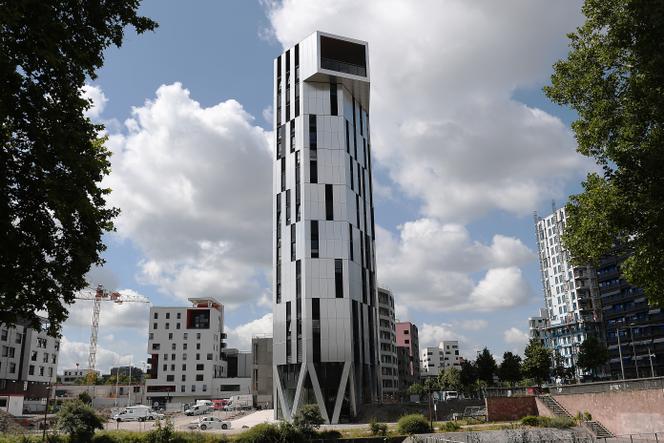 It has become emblematic of Strasbourg, in the same way as the cathedral or the European Parliament. The Elithis Danube tower was presented by its promoter, during its inauguration, in 2018, as the first positive energy residential tower in the world: a 17-storey building perfectly insulated and equipped with photovoltaic panels with a power of 219 kilowatts -peaks (kWp), 63 bright apartments equipped with a home automation interface allowing fine control of energy consumption, and residents rewarded for their sobriety efforts by a "Incentive bonus for virtuous uses of energy" paid in local currency.
Five years later, Elithis believes that it has fulfilled its promise: to offer accommodation with modern comfort and reduced energy costs. But for many residents, the account is not there: low-end equipment, freezing winters and sweltering summers have blurred the image of a building that wanted to transform its inhabitants into eco-citizens.
A "lack of maintenance"
In December, several dwellings thus found themselves without heating for several weeks. Without convincing feedback from the rental manager (Gest'Home, a subsidiary of Crédit Agricole), the inhabitants ended up alerting the local press. "The problem stemmed from a lack of maintenance on the part of the company responsible for maintaining the installation. Had to clean the filters for it to start again. We are quite bitter, because this affair is detrimental to us when it is completely decorrelated from the performance of the building and its capacities", explains Thierry Bièvre, Chairman and CEO of Elithis. Designer of the tower, the company gave it its name, but is in fact neither the operator nor the owner, apart from an apartment used for the development of the concept.
To support his remarks, the manager reveals the latest energy consumption figures for the inhabitants of the tower, which his company reports anonymously. The sale of the electricity generated by the 1,233 m2 of photovoltaic panels fitted to the roof and the facades of the building has, in fact, made it possible to largely offset the tenants' energy expenditure (hot water, heating, electricity, consumption of the common areas). Over the first three years, the average annual bill thus amounts to 84 euros per dwelling. According to Elithis data, it is even negative for 60% of them, at −36 euros; a value that increases to − 1 euro in 2021, and should be around 122 euros for the year 2022.
You have 57.12% of this article left to read. The following is for subscribers only.