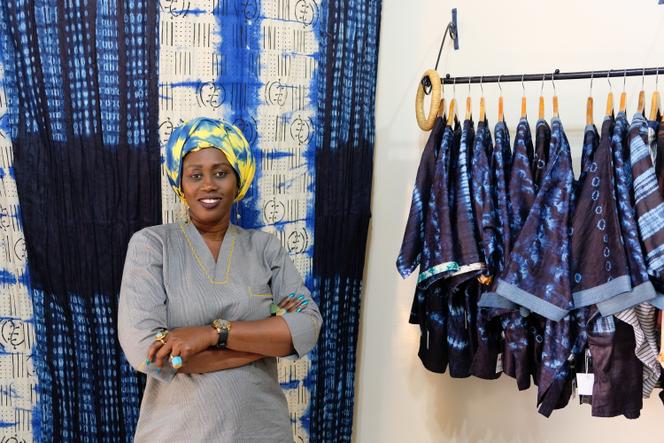 Pink, yellow, mauve and orange. In the small shop of Marie Madeleine Diouf, in an alley of the Plateau, in downtown Dakar, the clothes on the large rack come in all the colors of the rainbow. However, as soon as the eye pauses a little on this chromatic explosion, one shade takes precedence over all the others. At the stylist's, blue is king: it is the flagship color of the NuNu Design by DK brand, associated with a distant memory, a founder for the milliner. "As a child, the neighborhood where I lived lived to the rhythm of dance performances. Me, I was fascinated by this art and even more by the indigo loincloth of the Serer dancers", remembers the designer.
After the Wolof and the Fulani, the Serer make up the third ethnic group in Senegal, located in the center west of the country. This people, among the oldest to have settled in the area, had a strict dress code which required women to wear a loincloth and an indigo blue boubou with black stripes, and a scarf tied on the head, the moussor. Reason why the Senegalese has remained attached to indigo, which for her "is part of the history of the continent, a color deeply linked to several traditional cultures".
Read also:
Senegal in search of its lost weaving
Attached to her Serer roots, she therefore naturally declines this shade on bazin, a damask and shiny fabric, as on the PI, a woven cotton loincloth from Guinea. The intensity of the vegetable dye, obtained from the bark of the indigo tree, allows him to nuance the tones to infinity, from deep blue to a very pale bluishness, depending on the patterns made on the fabric. A dazzle for Marie Madeleine Diouf, who likes to play on these tone-on-tone modulations.
Three collections per year
The one that those around her nicknamed "Nunu" worked for fifteen years as a medical assistant before daring to embark on creation. She took the plunge one day in 2015 by deciding to market the clothes she had been creating at home for three years. The designer starts with 60,000 CFA francs (91 euros) in her pocket and three months are enough for her shop to be full. "These are the stars", she assures, modestly, to explain this dazzling success.
However, when she remembers her first shop windows, which mixed shells, fishing nets and typical objects from her village with her fabrics, Fadiouth, in the Siné Saloum region (west), she smiles: "I really started without knowing where I was going, just to respond to my passion, my desire to create. »
Read also:
Article reserved for our subscribers

Chanel in Dakar, a fashion dialogue
Eight years later, the NuNu Design by DK brand employs ten people. Through her pieces, Marie Madeleine Diouf wants "to magnify African textiles and tell the story of peoples". Wrap dresses, short tunics and kimono-type jackets: everything is made in the workshop adjoining the store at the rate of three collections a year. A style "authentic and committed", in his words, who wants to associate ancestral know-how with current cuts. "We need to modernize our legacy, she keeps repeating, so that the garment is practical and comfortable in everyday life. »
NuNu's flagship model Design combines cut-out pockets on jeans salvaged from a Dakar thrift store with an indigo dress or tunic. This creation, the most sold by the brand, reflects the stylist's ecological commitment, in search of a second life for the mountains of second-hand clothes sent by the countries of the North.
Cacti and eucalyptus
Imaginative, she also revisits the thiourayean incense with heady notes widely used by Senegalese as an element of seduction, and transforms it into a variation of liquid perfumes of atmosphere. And since the designer never forgets that her inspiration stems from her personal story, she named each of the seven fragrances she imagined with the first name of her ancestors.
To give back a little of what she has received from her family, Marie Madeleine Diouf has also been organizing workshops since 2019, in order to "contribute to the empowerment of women in crafts". And, regularly, she stops in villages to pass on her knowledge.
Read also:
"Too many Europeans think that African fashion comes down to wax": Imane Ayissi, pan-African designer
To go further, it has also undertaken for four years research on other dyes. In the vats of her workshop in Ngaring, 60 km south-east of Dakar, she is experimenting with new processes based on natural components. Pigments from cactus, eucalyptus and various barks allow him to obtain unique colors, different from modern dyes.
In order to set up a production line entirely local, the entrepreneur would like to produce cotton on Senegalese territory. "This craft requires a longer crafting process, but it's a commitment to quality and ecology, based on what nature offers us", she assures, aware that this will not happen overnight.
This article was written as part of a partnership with 19M, founded by Chanel.