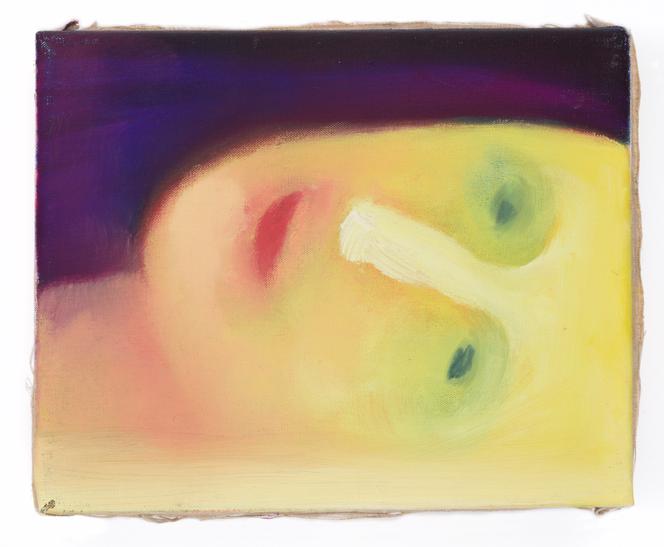 "But I don't paint!" » From the first seconds of the interview, Miriam Cahn goes against the grain. His exhibition at the Palais de Tokyo is a flood of images, nearly two hundred works that carry us away and stop us, sometimes astonishing: they carry within them the violence of the world, of which the Swiss artist has been the seismograph for fifty years. "Miriam pauses the flow of volatile images of political news and seizes on them to testify, resist, embody"summarize the two curators, Emma Lavigne and Marta Dziewanska.
For the visual artist, this exhibition is "like a performance". These bodies which attack at the first step, with their strident roses or their purple wounds, are his, are ours. "When I was a young artist, I had the chance to be in the very good Stampa gallery, in Basel, which defended great performance artists, she tells the World in his French a rocky bit of Swiss German. I was fascinated by the way they used their bodies as instruments, by their very political attitude. » Together, they will drink shots, also argue, a lot: "They said we can't draw anymore. Me, I wanted to keep a memory of the performance in the drawing. »
High "in art, in the huge family library", she left her studies of applied arts, and could have turned advertising; she has become this artist of ardor and rage that so many museums crave. "My body is my instrument, she continues. It is he who gives the rhythm, the tempo. » She works quickly, two hours per canvas, at most, "because the instrument decides, as in classical music". Remembering his years learning the cello as a child? "When you know how to play, it's easier to make yourself an instrument. I go into the web, and when I get out, it's over. Never sketch. »
Isolated in her valley
With Miriam Cahn, time is at work. Until the most intimate time, as in this series which obeys the female cycle of twenty-eight days. " Weibliche Monatit is a masterful suite where his own physiology merges with the medium of painting », analyzes Emma Lavigne. Auroras of yellows, pinks, blues pour out in drips. "Three colors, water creates form, that's it. It's a bit psychedelic/LSD, because I'm a bit of a hippie-like old woman. » As a confusing echo, she arranged huge black chalk drawings, inspired by the atomic bomb. "She is extremely beautiful, this bomb, admits this early anti-nuclear activist. I often imagined myself as the pilot of the plane that launched it and ended the war anyway. The atomic bomb is the paradox in itself. » She drew her squatting, leaving the traces of her fingers, elbows, knees in the dark volutes, as if to embody this paradox.
You have 44.17% of this article left to read. The following is for subscribers only.