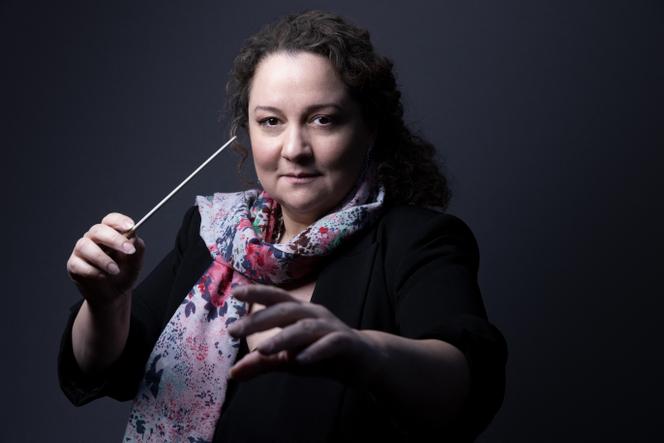 "Do you know many women conductors? They are not good: assistants to maestros who imitate their master, nothing more. » We say these sentences to the young Zahia, played by Oulaya Amamra, in the film entertainmentdirected by Marie-Castille Mention-Schaar and inspired by the story of Zahia Ziouani, 44 years old today.
Viola player and guitarist, this Pantinoise created her own orchestra at the age of 20 to be able to direct it and break down barriers, even if it means shaking up the codes of classical music. Today, the conductor enjoys a "great artistic freedom". In particular, she is working on several projects that will build bridges between sport and music in the context of the Olympic Games. And this Thursday, March 30, she will be at the Théâtre du Rond-Point in Paris, to play "Titan", the Symphony No. 1 by Gustav Mahler, in "full immersion" in the composer's work.
In what environment did you grow up?
I grew up in a popular district of Pantin, in Seine-Saint-Denis. We lived in a large HLM bar. My parents were not musicians at all, but very music lovers. My father arrived in France in the 1960s, my mother in the 1970s. They both come from Algeria. My education was very open to French culture, history and the arts… but also to my Algerian roots. I was rocked by this link between the classical music of Europe and the music of Algeria. My father also loved jazz, Tina Turner… we listened to lots of different styles!
I remember a childhood very focused on values, work, respect. My mother devoted herself to our education until when I was 15, then she went back to work in the administration of a company – in Algeria, she was a civil servant. It must be said that we arrived together with my twin sister, Fettouma: it upset her plans a bit. Especially since our brother Mehdi was born shortly after. My father, on the other hand, worked in the restaurant business.
How were they organized financially?
We never lacked for anything, it's just that we didn't go skiing every year. We felt that our parents made a lot of sacrifices so that we could practice our activities and have our instruments – the cello for my sister Fettouma (who also made a career out of it), the guitar and the viola for me. They knew how to get by and put priorities where they needed to be, even if it meant sitting on the holidays for years.
You have 80.91% of this article left to read. The following is for subscribers only.