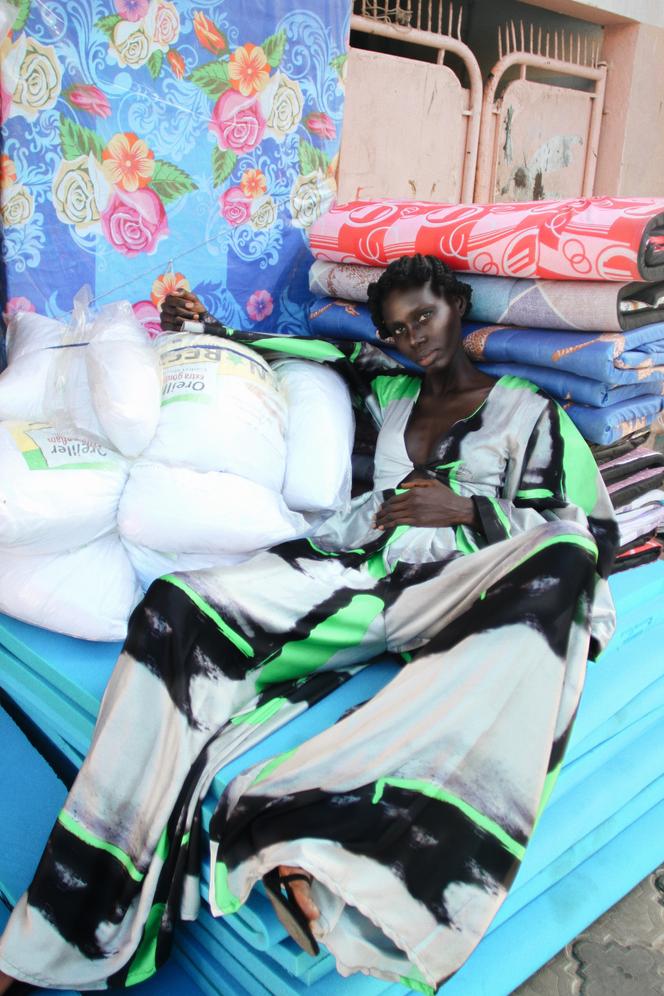 For Sarah Diouf, there is a before and after Beyoncé. Before 2018, Tongoro, launched two years earlier by the young woman, now 35, was advancing with the quiet step of a young Senegalese brand. And then, a first spotlight boosted the brand's sales: Beyoncé appeared in Tongoro during a vacation in Italy in 2018. Everything accelerated again with the release, at the end of July 2020, of the musical feature film Black Is King, of the American star. She appears there wearing a set of black and white pants, signed Tongoro, in the middle of pink flamingos. Seen more than 11 million times in two days, the film, broadcast on Disney+, further boosted brand awareness, leading to a surge in orders and sales.
Read also:
Fashion in Dakar, a passion in the midst of a revolution
Since this founding event, the queen of pop music has become a regular customer and, as such, her photo appears alongside those of the American pianist and singer Alicia Keys or the British supermodel Naomi Campbell, in the hall. of an apartment in Scat Urbam, a modern building in Dakar, where the designer has set up her office and her clothing workshop.
If these VIP ambassadors joined the brand very quickly, it's because Sarah Diouf uses fashion, fabrics, cuts and volumes to tell the story of her continent. His clothing designs illustrate a "Africa on the move", she says, and that's what appeals to her most engaged audience. Initially, as a fine observer, the young woman, then based in Paris, had the intuition of an African renaissance still underlying which she had to surf, but it was her encounter with "Dakar the creative" that will help refine his project.
Read also:
Senegal: in Dakar, full fire on crafts
Born in Paris to a Senegalese-Central African mother and a Senegalese-Congolese father, then raised in Ivory Coast, the one who defines herself as "a child of Africa" observes, at the beginning of the 2010 decade, that "the craze for African fabrics allows a reappropriation of traditional cultures and encourages the emergence of contemporary designers Africans ». This excitement around Africa and its products, this enthusiasm for what comes from the continent inspires him, but it will take him several years to really find his way.
"Embodying African Pride"
Communication specialist, holder of a master's degree in marketing and communication management obtained in Paris, she began, in 2009, by creating a webzine called GhubarA "space for the promotion of African and Arab artists in the world of art, culture and fashion". In 2015, she continued with Black, a magazine on the art of living, which tells the beauty and the African style. It is through this back door that she enters the world of fashion.
Read also:
"Momo le bottier", an exceptional Dakar shoemaker
One thing leading to another, she is slowly moving towards the idea of ​​creating a made in Africa brand that she imagines as a vehicle for the continent's know-how. "I have long wanted to embody African pride in valuable creations", summarizes today Sarah Diouf. Creator but also director therefore, through her collections, of a story promoting sub-Saharan Africa. Fabric imposed itself on her, fashion seeming to her to be the ideal vector for this narrative.
She moved to Dakar in 2016, where the omnipresence of street tailors, busy from morning to night making the custom outfits that everyone ordered, seduced her. Sarah Diouf feeds on this raw talent, " fascinating ", which she diverts in the service of her label. Very quickly, she surrounded herself with four tailors in her workshop, supported by eight others outside, who produced between one hundred and two hundred pieces per month. Out come dresses with ample sleeves and oversized shoulders, jumpsuits with wide legs, key models in her wardrobe. Noble pieces, worked to enhance movement and respect the freedom to move.
Sarah Diouf creates her visual identity around black and white prints reproducing flora or motifs from classic African iconography. Inspired by the clichés of "Fathers of African Photography" – the two Malian portrait painters Malick Sidibé (1936-2016) and Seydou Keïta (1923-2001) – this graphic design quickly became the DNA of Tongoro, a name which means "star" in Sango, the language of the Central African Republic. Recently, at the request of her clients, Sarah Diouf has expanded the chromatic range of her creations and the panoply of pieces she creates. To the colors that come to vary her basic fabrics, she also adds head jewelry and oversized earrings with very stylized outlines, capable of underlining a hairstyle and enhancing the posture of the head. "The cultural mix in which I grew up infuses my brand", observes the designer, who likes to emphasize in her outfits "the presence of a subtle Senegalese poetry of the volumes".
The challenge of producing locally
With Tongoro, she wants to give shape to beautiful clothes, with neat finishes, which she imagines worn on her continent as well as in America, Europe or the Middle East. Moreover, for the time being, the one that communicates in English – for the sake of efficiency – makes 60% of its turnover in the United States, before the United Kingdom and France. On the continent, South Africa, where the brand is due to expand soon, and Nigeria are its main markets, well ahead of Senegal, which is growing slowly.
Newsletter
"The Africa World"
Every Saturday, find a week of news and debates, by the editorial staff of "Monde Afrique"
Register
To be available everywhere, Sarah Diouf used her skills in marketing and building its business model on digital: all Tongoro creations are sold only on the brand's website. "Why limit yourself to physical stores? », she asks, while with an online presence you can reach a wider audience of buyers, and this, on all continents. Since 2022, Tongoro has also been distributed on the luxury goods sales site Net-à-porter, a platform that has brought it a new clientele, based in the Middle East. The collaboration, which should have started in 2020, was postponed for two years due to the Covid-19 pandemic but also to the impossibility for the brand to produce two collections of 1,000 pieces per year.
Read also:
In Senegal, the revival of falé, a traditional ecological cotton
Expanding production remains a challenge in Senegal. Like other designers in the country, Sarah Diouf had to train her tailors, in patronage in particular. To gain autonomy and increase production to 500 pieces per month, she plans to set up a larger clothing unit in Senegal. In the meantime, she is forging a partnership with a textile company, already employing a hundred tailors, also based in Senegal. "Due to a lack of formalization of the sector, there is no fashion industry here, but rather an ecosystem to which we must adapt", she laments, sorry for this untapped potential. However, Sarah Diouf does not want to give up and hopes that her journey will inspire other creators.
This article is part of a dossier produced as part of a partnership with 19M, founded by Chanel.