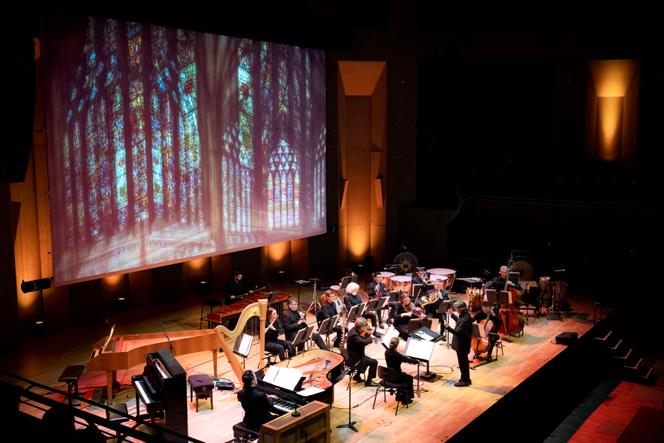 The San Francisco Symphony Orchestra had not set foot on our soil for seven years. In the meantime, the Californian phalanx has appointed its twelfth musical director, the Finnish Esa-Pekka Salonen, known in our latitudes for his assiduous collaboration with the Orchester de Paris. The Americans decided to start small. It was not in the large Pierre-Boulez hall that they opened their four-day residency at the Philharmonie de Paris, but in a select committee, in the modular space of the Cité de la Musique, exporting for the first time the format of one of their concerts Soundbox. Three screens and three podiums (one large at the back of the room, one medium in the middle, one small in front), capable of hosting a variety of musical sets and various instrumental formations, accompanied by video projections designed by designers Adam Larsen and Luke Kritzeck.
The master of ceremonies is none other than the American pianist and composer Nico Muhly, 41, perfectly bilingual, whose predilection for the music of the English Renaissance is expressed in the orchestration of pieces such as these Two Motets by William Byrd which open the evening under the direction of Esa-Pekka Salonen. Images of Gothic cathedrals scroll by, while strings and winds deploy Byrd's delicate polyphony. Stained glass now color upright (extract of UsefulExpressions), that Yuja Wang, stilettos and grunge look (black leggings with holes), plays on a prepared piano, with the sounds of bells.
Sensitive to the expansion of the repertoire, as well as the renewal of the perceptual experience, the American institution has been exploring this format for nine seasons. It displays an open-mindedness that is embodied in an innovative model of artistic direction encompassing eight collaborating partners touching on various artistic disciplines, such as Nico Muhly, who also writes for the cinema. The evening continues according to the catwalks and the screens.
colorful kaleidoscope
Close-ups of the famous Carnival and Lent fight of Brueghel the Elder for the Fantasia on a Ground and Two Pavans, by Peter Maxwell Davies, who deposits strange sonorities on the music of Purcell, before miming, jazzy version, with glissandos, drums and out of tune piano-bar, the agitation which seized the characters of the painting. Colorful kaleidoscope and pre-Raphaelite painting for the beautiful elegy for trombone and piano by Muhly (Codeshareplayed by Timothy Higgins), then Time Stands Still for trumpet (Aaron Schuman) and orchestra after Dowland on the sleeping beauties of Edward Burne-Jones, The Legend of Briar Rose. Between the two, the ardent and spirited string quartet movement of Caroline Shaw, Blueprintborrows from Schubert, Beethoven and Janacek.
You have 36.2% of this article left to read. The following is for subscribers only.