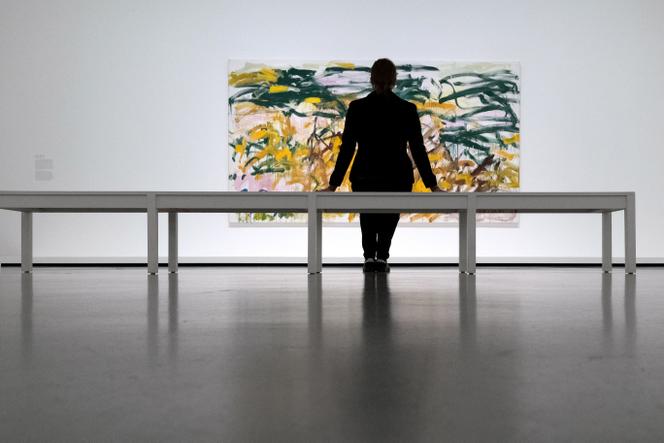 Louis Vuitton's latest international advertising campaign to promote handbags sparked a war with the heirs of Joan Mitchell, a major figure in American Abstract Expressionism (1925-1992). On the offending posters, the actress Léa Seydoux poses in front of three works: The Great Valley XIV (For a Little While) (1983), Quartet II for Betsy Jolas (1976) and Edrita Fried (nineteen eighty one). These paintings are on display at the Louis Vuitton Foundation until February 27, as part of the "Monet-Mitchell" exhibition. For the Joan Mitchell Foundation (JMF), responsible for the moral rights of the artist, this campaign is illegal.
The JMF sent, Tuesday, February 21, "a formal notice to Louis Vuitton Malletier, demanding that the company immediately withdraw its print and digital advertising campaign which reproduces and illegally uses at least three works by the artist Joan Mitchell for the promotion of its commercial goods".
Read also:
Article reserved for our subscribers

At the Fondation Louis Vuitton, confrontation between two giants of landscaping, Claude Monet and Joan Mitchell
At the end of 2022, the luxury brand first asked the JMF for permission to use the artist's paintings as part of a future advertising campaign. Indeed, even if two of the canvases belong to the National Museum of Modern Art at the Center Pompidou – Quartet II for Betsy Jolas And The Great Valley XIV (For a Little While) –, the JMF must give its consent for any commercial use of the works. Whether or not they are in his own collection, as is Edrita Fried.
Offer declined
However, the JMF had then clearly refused this request. "in writing, in accordance with its policy that images of the artist's work should only be used for educational purposes", considering that the work of Joan Mitchell had absolutely nothing to do with the sale of a range of handbags sold at a minimum of 5,500 euros each.
Christa Blatchford, director of the JMF, told the New York Times of February 21 that Jean-Paul Claverie, who advises Bernard Arnault, the CEO of LVMH, on matters of sponsorship, had returned to the charge in January, specifying to him by e-mail that this request came from "d'Arnault himself" and "the billionaire (was) willing to donate to the Joan Mitchell Foundation." Proof that not everything can be bought, Christa Blatchford had once again declined this offer.
The advertising campaign however started without the agreement of the rights holders, on February 12, 2023. Chance of the calendar? Joan Mitchell's birthday. "By allowing these works to be photographed for this purpose and in this manner, the Louis Vuitton Foundation violated its commitments with the JMF", castigates the latter, who says to herself "Very disappointed that Louis Vuitton shows such disregard for the rights of an artist and exploits her work for financial gain".
You have 34.73% of this article left to read. The following is for subscribers only.