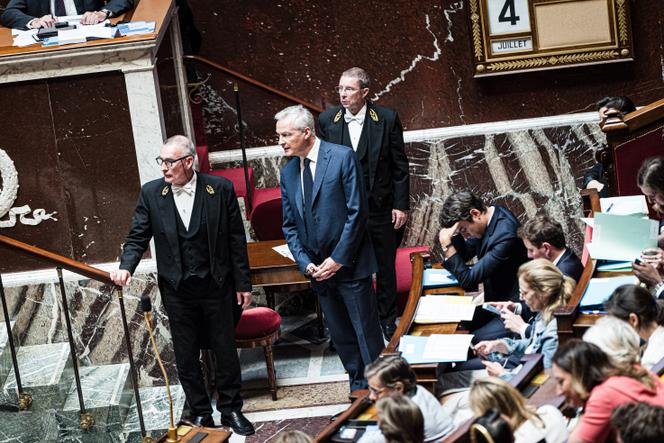 Accelerate the reindustrialization of the country while ensuring that it is more respectful of the environment. Such is the ambition displayed by the government with its bill relating to green industry, examined at first reading from Monday, July 17, in a National Assembly which will live its last debates before the parliamentary holidays.
Adopted in the Senate on June 22, this text "marks a real turning point in the economic history of our nation", had advanced the Minister of Economy and Finance, Bruno Le Maire, at the Luxembourg Palace. In the National Assembly, nearly 1,600 amendments were tabled for the session, largely by opposition parties who criticize the text for its "lack of ambition".
In order to promote the setting up of factories, the bill with nineteen articles intends to speed up and simplify procedures by halving the time for opening factories (from seventeen to nine months) through "an administrative revolution"in the words of the Mayor. "Instead of having successive authorizations and procedures, we propose to create a parallel procedure allowing the different administrative authorizations to be examined at the same time", he detailed in front of the senators. For "green" a French industry which represents 18% of annual national greenhouse gas emissions, the Banque des Territoires will pay 1 billion euros between now and 2027 to clean up and rehabilitate fifty industrial wastelands, representing 2,000 hectares, which will be made available " keys in hand " for the construction of new "greener" factories.
The executive also wishes to mobilize private savings, in particular by creating a savings plan called "Avenir-climat", reserved for minors, which can be opened by parents from the birth of the child. "This bill is in line with what we have done on renewable energies and nuclearexplains the deputy (Renaissance) of Yvelines Marie Lebec, mentioning the two texts adopted by Parliament in February and May. If we are aggressive enough on the subject, we can make France the country that knows how to produce in an eco-responsible way. »
"Lack of vision"
At the heart of the political standoff over this very technical text, the opposition criticizes the presidential camp for not providing a more precise definition of the projects that could materialize green industry sectors.
"The subject at hand is our imports, so any industry that relocates should be considered a green industry", defends the president of the group Les Républicains at the Palais-Bourbon, Olivier Marleix.
You have 55.97% of this article left to read. The following is for subscribers only.