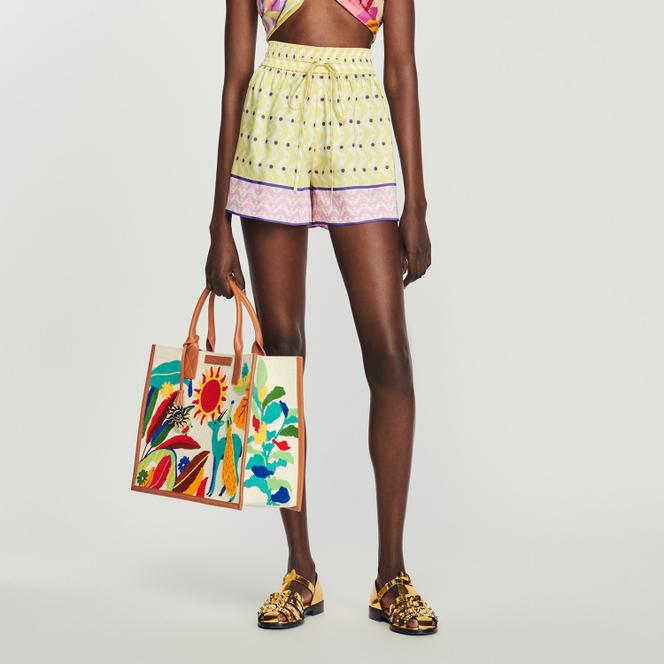 Creator of embroideries or shimmering prints, sometimes a sculptor, Louis Barthélemy started out in fashion, notably at Dior, then founded, in 2014, his personal label. Gucci, Ferragamo, Louboutin, Maison Pierre Frey, Balineum, Nymos… In recent years, all kinds of houses have called on the artist, raving about his exotic designs, interspersed with pop touches that reinterpret traditional motifs, treated as short narratives.
Evelyne Chetrite, founder of Sandro, asked her to develop a collection in collaboration for spring-summer 2023. "I knew the brand from afarrecognizes the thirties. But Evelyne told me about her career, of Rabat where she was born, of her childhood memories, of her shirt-making grandfather and of Sandro, a little boy for whom she played babysitter and whose kept the first name to baptize his label. I was keen to revive the Moroccan side of its history. »
To create an illustration, printed in particular on silk shirts and scarves, Louis Barthélemy, who lives between Marrakech, Cairo and Paris, drew on paintings signed by Mohamed Ben Ali R'bati (1861-1939), discovered at the Mohammed VI Museum in Rabat. "R'bati was a pioneer of Moroccan figurative painting, with a sometimes naive work but which deviates from European orientalism: he rather represented scenes of local life, such as weddings, circumcision, sharing of couscous … I took from him the idea of ​​a group portrait, composed in a riad, with its fountain, its black and white paving. »
A sunny and idealized frenzy that he transported to brighter colors and which contrasts with a pattern mixing waves and Moorish stars running on the collar, the sleeves or inviting itself elsewhere on pants, shorts and bags.
Collaboration Sandro × Louis Barthélemy, from €145 to €395. sandro-paris.com