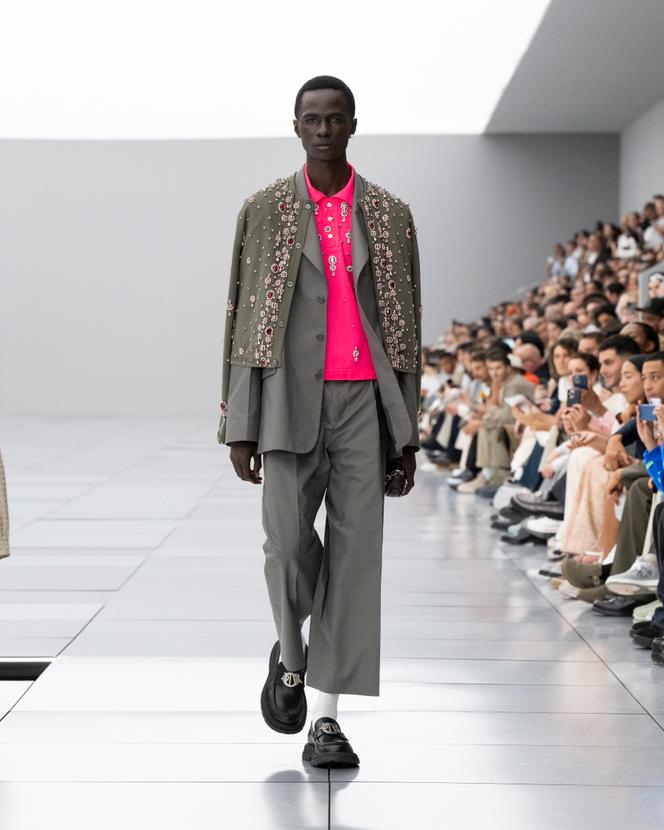 Does Paris still have real competitors? New York has given up its men's fashion week, that of London no longer has international influence and that of Milan is struggling to renew itself. At the same time, Paris has gained momentum, as proven again by the spring-summer 2024 season, which took place from June 20 to 25. After the show of force of the Vuitton show on the first day of fashion week, the level has not dropped. The power of the French capital lies in its ability to bring together young talents and historic houses, to alternate blockbusters and confidential fashion shows and, above all, to offer a plural vision of fashion, from the very classic to the very conceptual.
For Kim Jones' fifth birthday at Dior, the brand had promised its guests " A suprise ". The huge gray box raised in the gardens of the Ecole Militaire presented a priori no singularity, until trapdoors hidden in the tiled floor opened and mannequins, each on a small mobile platform, emerge from the depths. An ideal staging for Instagram, which also highlights a very convincing collection, even if rather wintry, based on spicy classics: the wide suits are made of tweed which rather evokes the female wardrobe, very sober raincoats contrast with neon polo shirts, Harrington jackets are worn with cardigans embroidered with stones more bling-bling than the crown of Charles III, moccasins have thick soles like creepers.
"Dior is a haute couture house with a women's fashion culture that we have applied to current men's fashion. For the first time, we were inspired by several Christian Dior successors", explains Kim Jones, who reworked suits by Yves Saint Laurent, embroideries by Gianfranco Ferré and textures by Marc Bohan. An assumed, colorful luxury, for those who want to stand out.
Read also:
At Paris Fashion Week, Pharrell Williams ensures the show for Louis Vuitton
At the opposite end of the spectrum, there is Hermès, a follower of discreet luxury. In the vast colonnaded room of the Palais d'Iéna, which houses the Economic, Social and Environmental Council, the saddler has installed a metal mesh for all decoration, reminiscent of the construction of clothing: the show opens with transparent, checkered shirts white lines, which barely veil the skin. Models show off their legs, with short leather elasticated waist shorts paired with perforated nubuck calfskin jackets. Pants in crisp cotton poplin are wide, leaving the ankles exposed, while the puffed collar shirts in washed silk gape on the chest. Evening jackets in white technical material form an opaque veil on the skin like tracing paper, with added suppleness. A wardrobe with perfect finishes, as sober as it is elegant, in a restrained palette of faded blue, mist grey, desert beige.
"I wanted the height of summer and at the same time lightness, air that circulatesexplains designer Véronique Nichanian, who, for this parade which took place on June 24, the day of the Pride March, wanted to broaden the spectrum of the male wardrobe. It's interesting to offer men materials and volumes that were previously reserved for women. They have very beautiful legs, it's about time we see them, right? »
A voodoo-inspired wardrobe
For his part, Jonathan Anderson has made Loewe a research laboratory that combines artisanal luxury and games of illusion, particularly around the dichotomy between real and virtual. This season, he combines jeans and plaid blazers, with nothing underneath; soft calfskin overalls and black disco glasses; and especially shirts tucked into very high-waisted trousers, all studded with tone-on-tone crystals.
"A complete wardrobe, but revised with new proportions, distorted, as if looking through a fisheye lens. The torso gets smaller, the leg gets longer"deciphers Jonathan Anderson, referring to this visual effect present in The Favorite, the film by Yorgos Lanthimos (2018). And to add to this discrepancy other discreet quirks. Thus, the trucker sweaters have two collars on top of each other. The suede tank tops are two-in-one, also constituting a bag whose strap is worn on the shoulder, while certain shoes disappear, swallowed up by the pants to which they are directly sewn. Presented alongside impressive fountains by American artist Lynda Benglis, whose bronze evokes frozen magma, the collection confirms Loewe's singular position on the Parisian scene.
Read also:
Paris Fashion Week: masculine sensibility
This also applies to creators from all over the world who express themselves freely there. Like the duo Lisi Herrebrugh and Rushemy Botter, from the Botter label, which succeeds in a funny mixture inspired by voodoo, between jackets or bags in scoubidou links, deconstructed suits and fluid pieces printed with illustrations signed by the Haitian artist Day Brièrre . "Voodoo, too often perceived as black magic, can help us find unity and harmony, and clothes can soothe us"argues the couple from the Dominican Republic and Curaçao.
Among the next generation, the 30-somethings Grace Wales Bonner and Marine Serre are doing particularly well. The former cites the Ethiopian marathon runner Haile Gebrselassie as an inspiration for her vermilion or lemon tracksuits, running shorts, leggings and technical sneakers (with Adidas), treated with the same care as outfits "more ceremonial"for the awarding of medals, like suits embroidered with pearls or rigorous overcoats.
Newsletter
"Taste of the World"
Travel, fashion, gastronomy, design: the best of the art of living, in your e-mail box
Register
The second, very comfortable creating an intrepid wardrobe from scarves, aprons, tea towels or recovered towels, invites the Wagram room to the fashion world but also the general public, happy to Instagram the musicians who parade, such as Yseult, Miguel, Noah Cyrus or Teyana Taylor. Kitsch patterns (feline heads, comic strips, Garfield cat, etc.) intersect with boxer shoes, skirts, multicolored crochet sweaters or hip-hop-style show-off logo outfits. Hard-hitting, non-conformist, pop, everything has allure. And there's no shortage of generosity: once the parade is over, three DJs mix until past midnight. "A lot of people say my work is dystopian, when the world is dystopian.says Marine Serre. To propose to party is for me to try to bring joy. Otherwise, a fifteen-minute parade is too short. »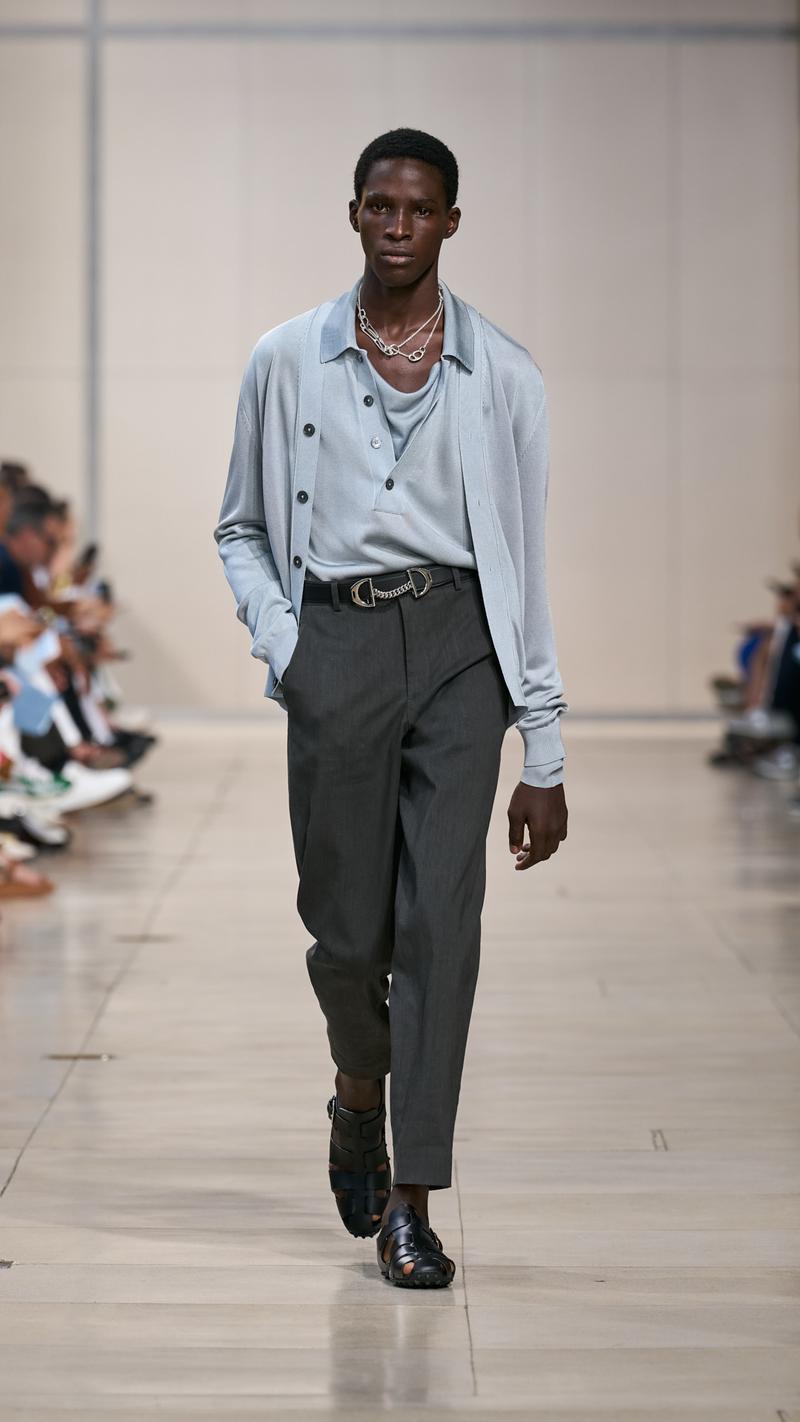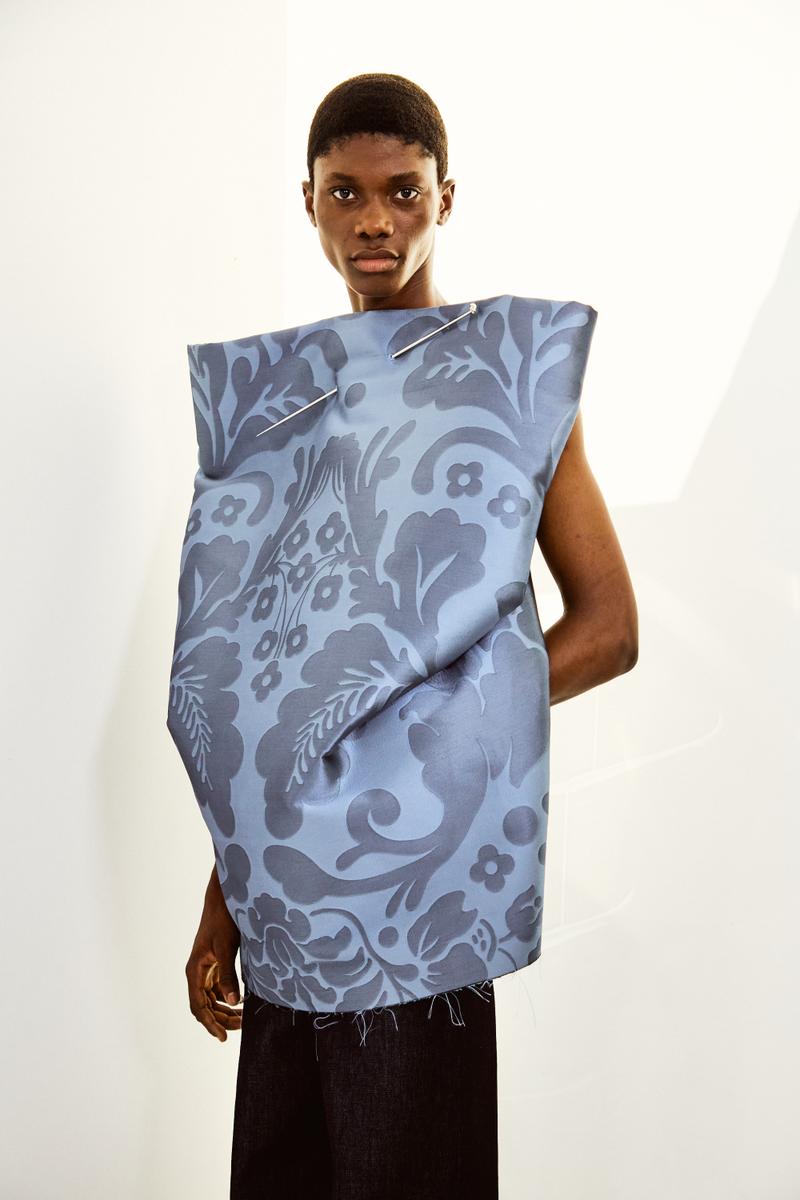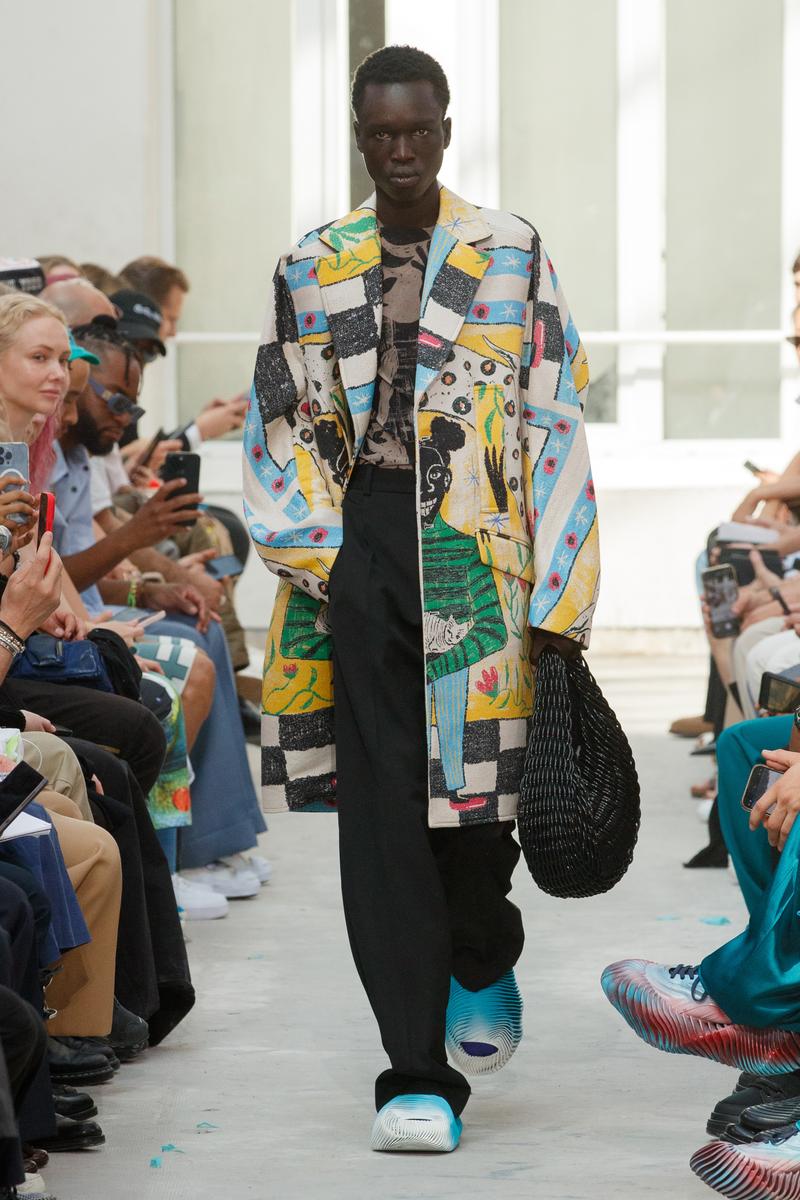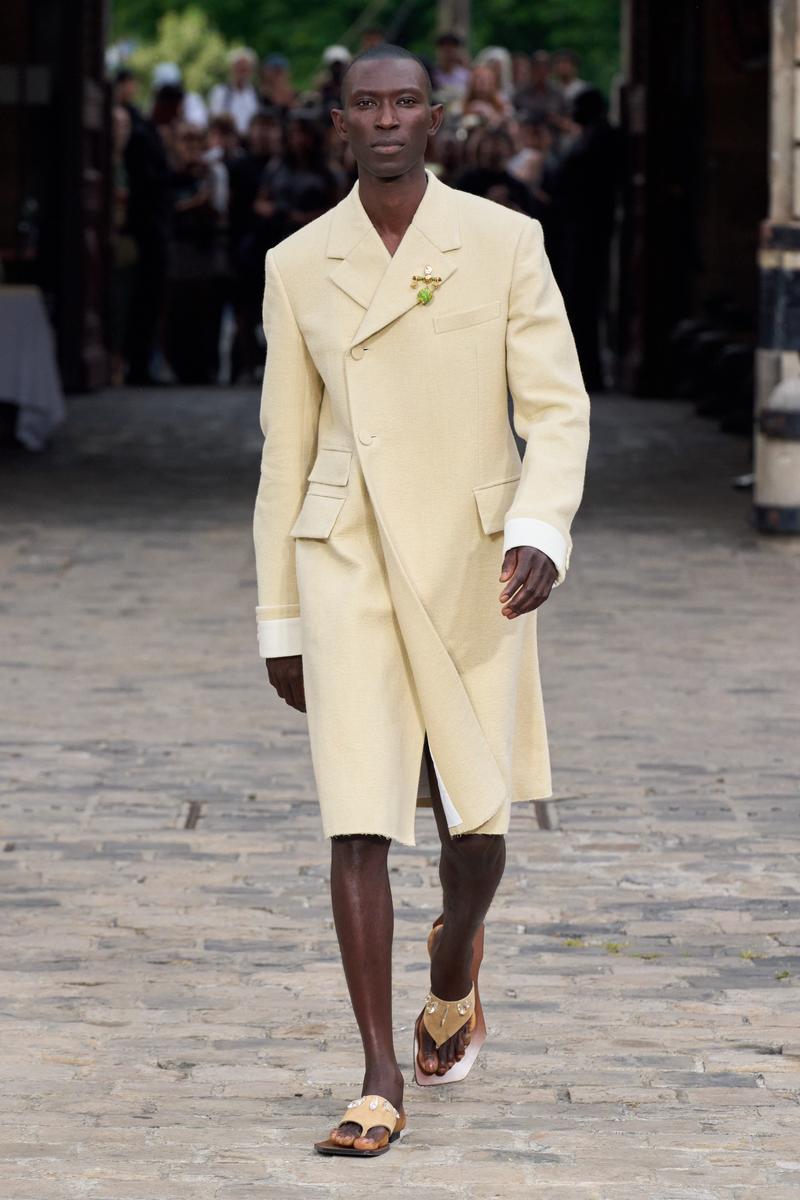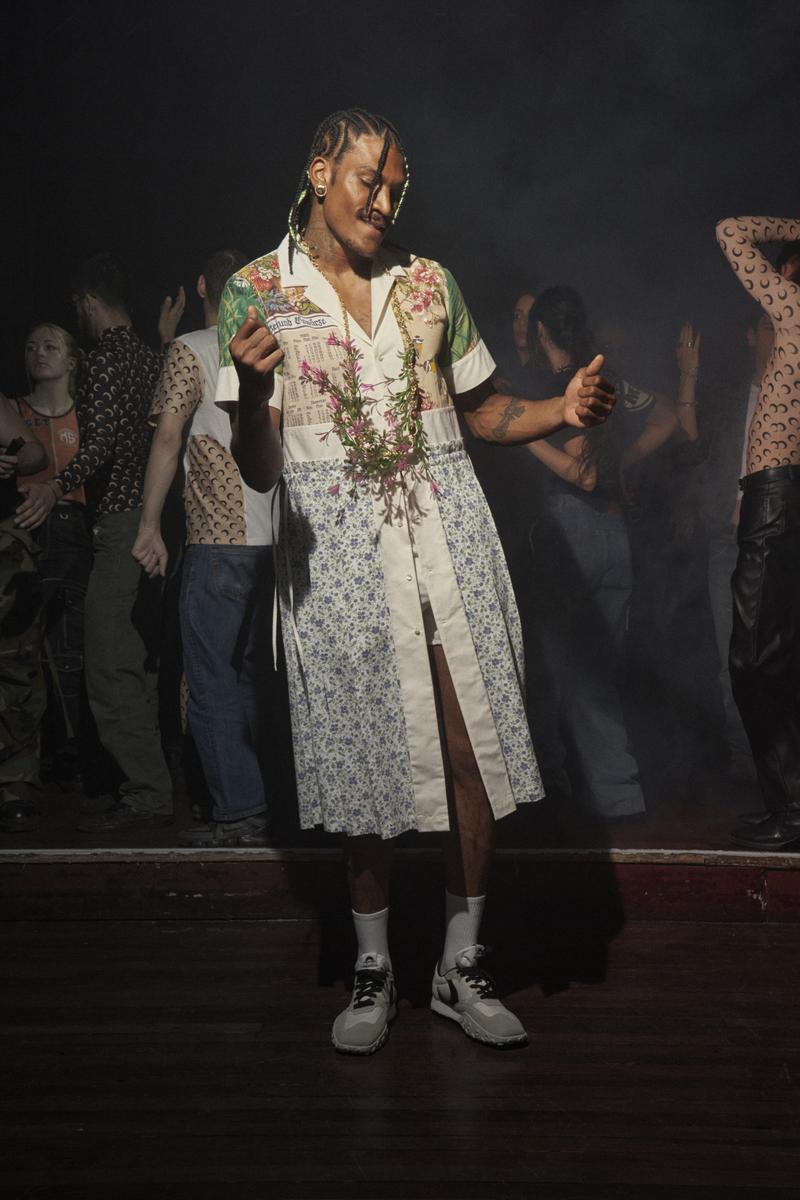 Read also:
At Paris Fashion Week, Japan between deconstruction and exploration