Streaming platforms have never had so many subscribers, and yet… behind the scenes, morale is at half mast. For lack of having found a sustainable economic model, Netflix, Prime Video or even Disney +, to name a few, are struggling against increasingly fierce financial pressure. Another challenge they encounter is the fragmentation of the video-on-demand landscape. In this hypercompetitive sector, in permanent change, each company must now fight not to lose its place.
This instability is not without consequences on the fictions that we watch: formatting of scenarios to focus on efficiency rather than originality, co-financing of projects between competing platforms or even the sudden disappearance of series that are not very profitable. However, the transformation of the sector also brings its share of windows for creation and the platforms have certainly not said their last word.
In this episode of the "L'Heure du Monde" podcast, Audrey Fournier and Thomas Sotinel, journalists at Worldexplain why the platforms are experiencing such upheaval and what avenues are at work to get them out of the impasse.
An episode of Claire Leys. Directed by: Florentin Baume. Credits music: Amandine Robillard. Presentation and editor-in-chief: Jean-Guillaume Santi. In this episode: interview with Laurence Herszberg, general manager of the Séries Mania festival; excerpts from the opening ceremony of the Séries Mania festival in Lille, March 17, 2023; extracts from a France 24 report on the Disney company, from an RFI newspaper from April 2022, from an RMC newspaper from April 2022; excerpts from the series Desperate Housewives, Borgen, Les Combattantes And Chernobyl.
"The Hour of the World"
"L'Heure du Monde" is the daily news podcast of the World. Listen every day, from 6 a.m., to a new episode, on Lemonde.fr or on Spotify. Find all the episodes here.
Learn more about the platform ecosystem: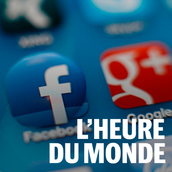 Also listen Gafam: the tech giants in turmoil?