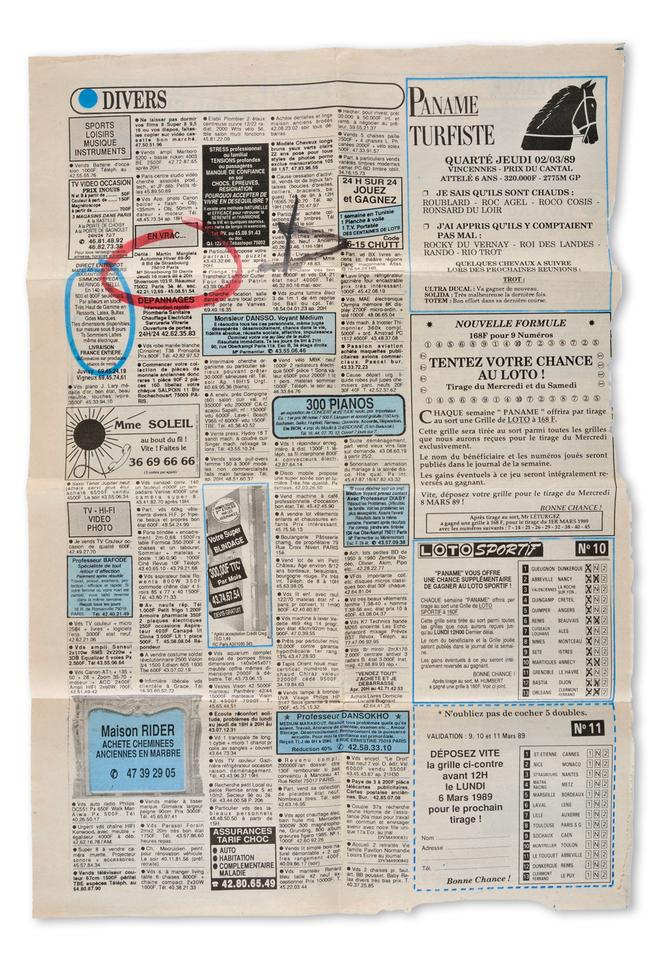 At the end of the 1980s, Martin Margiela, a young Belgian designer trying to carve out a place for himself in the Parisian fashion week calendar, showed incredible ingenuity for his fall-winter 1989-1990 show, his second in the capital. Without great means, he decides to publish the invitation to his show in the free Parisian newspaper Paris Boom Boom, published every Monday morning. Renowned mainly for its pages of classified ads, this weekly also echoed Parisian cultural events. It was then found at the entrance to metro stations, but also in bakeries and laundromats.
Between two naughty classified ads, sales of box springs or predictions of Madame Soleil, the day and place of the parade are therefore discreetly leaked: Thursday, March 16, 1989, at 8 p.m., at 8, boulevard de Strasbourg. This is the address of Globo, a club known at the time to be one of the first in Paris to take an interest in hip-hop culture.
The publication of the classified ad cost the modest sum of 25 francs (6.55 euros). Helped by his small team, including the co-founder of the brand Jenny Meirens and his press officer, Pierre Rougier, Margiela then travels through the capital in search of as many copies of the newspaper as possible. An agreement made beforehand with the publisher of the press title, the VSD group, having enabled it to already put 200 aside.
Read also:
Simon Porte Jacquemus and his crisp cardboard
In total, there are nearly 800 pages of Paris Boom Boom which were torn off and then put in an envelope and sent to the guests of the parade. An efficient and clever way to save printing costs for the young designer who made resourcefulness his trademark until he left home in 2009. Paris Boom Boom disappears, as for him, in 2004, or, more exactly, he changes his name, to become top ads.