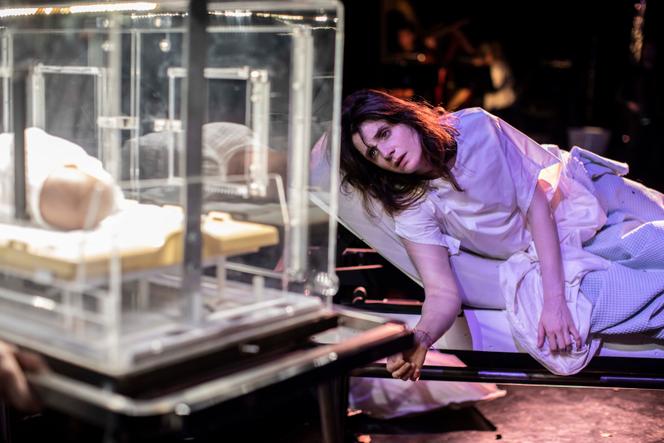 A lethargic woman is dragged from her hospital bed by a man who places her carefully on a formica stool. He is told the story of Bluebeard whose last wife was very happy until the day she entered the forbidden room. Her name ? Melisande. As white as the clothes she wears, the sufferer picks up color as she listens to this morbid tale delicately accompanied by a cellist who has come to play, standing beside her. From time to time, she reaches for the instrument, places it on the bridge or on the strings, as if to cling to the music, to draw vital energy from it.
This is the prologue of the show, Melisandegiven at the Théâtre des Bouffes du Nord in Paris until March 19. "According to the opera Pelléas and Mélisande by Maurice Maeterlink and Claude Debussy", the poster tells us, thus implying that the reference work will be treated with a certain degree of freedom. We will soon find out. Even before the curtain (at the back of the stage, shiny and golden like a circus hanging) rises under the effect of an artificial storm and the stage is swept away by dead leaves in gusts, the characters present seem to us far removed from their models.
Between daze and hysteria
Dressed and booted like a peasant who wields a rifle (hunting trophies, deer or deer, are numerous), Golaud is certainly "a man like the others" (in accordance with the libretto of the opera) but he maintains the ordinary to excess, in the register of someone who does not understand what is going on around him. He falls on an unknown Mélisande who navigates between stupor and hysteria, soon offers him an alliance and does not see coming the idyll that she will tie up to madness with the young Pelléas, his half-brother and its opposite all the way.
Vocal line, in particular, since Pelléas (Benoît Rameau) takes on part of an opera singer while Golaud (Jean-Yves Ruf) only expresses himself as an actor. Hybrid engine of this musical theater experience, Mélisande (Judith Chemla) uses spoken or sung depending on the affective landscape she is going through. The idea is not unrelated to Debussy's desire to make the protagonists of his opera sing like "natural persons". Paradoxically, despite the fine performance of Benoît Rameau (tenor with a silky timbre), it is in the instrumental and non-vocal domain that the link with the opera created in 1902 seems most tangible.
You have 38.8% of this article left to read. The following is for subscribers only.