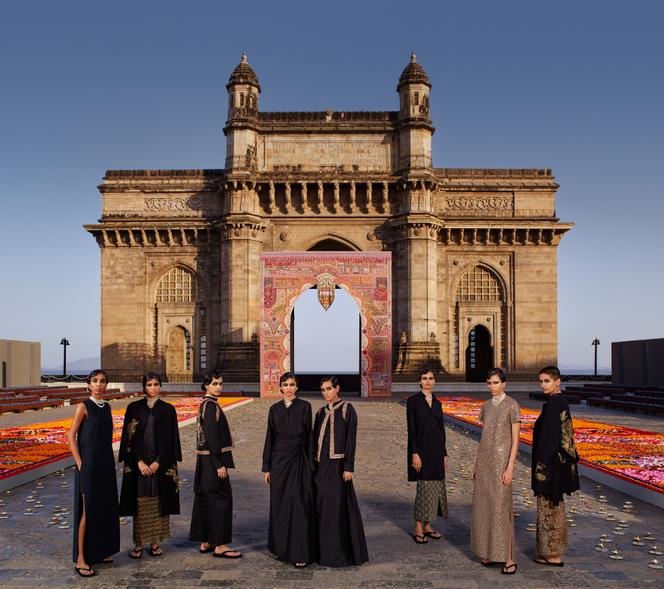 Luxury is going through a paradoxical phase, multiplying events all over the world beyond reason, seeking at the same time to give them more meaning. This desire not only to use a city or a country as an exotic setting for a collection was already illustrated in December 2022, when, on the sidelines of its arts and crafts show in Dakar, Chanel developed exhibitions showcasing Senegalese culture, has established partnerships with local artists, artisans and farmers. Today, it's Dior's turn, which has already presented two women's collections in Paris since the beginning of the year and will present another abroad in May, to stage a show that seeks to show little more than a beautiful postcard.
Thursday, March 30, in Bombay, India, the brand presented its fall 2023 collection, which is not usually the subject of a show. "This is one of the most important projects I have carried out at Dior, explains Maria Grazia Chiuri, artistic director of the women's collections, met in the Parisian offices of Dior on March 6. I have wanted to celebrate Indian craftsmanship for a long time, especially the Chanakya workshops with which I started working in 1992. »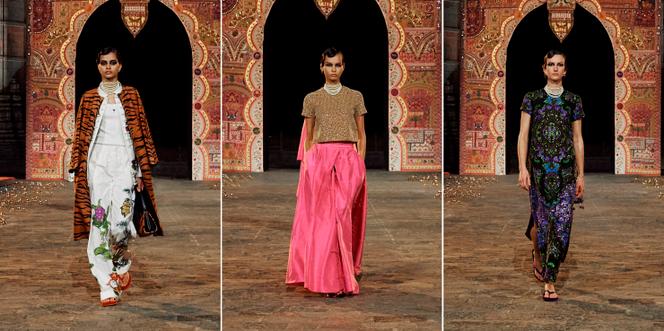 At that time, she was a designer at Fendi in Rome and was looking to make embroidered bags. "It was not a widespread practice, and I couldn't find anyone in Italy who knew how to do this job, she remembers. It was then that I met Nehal Shah, a young Indian embroiderer who approached Italian fashion brands to offer them the services of the family business. (Chanakya International in Bombay, founded in 1984). » Beyond solving her bag problem, Nehal Shah and her sister Karishma Swali introduce Maria Grazia Chiuri to embroidery and sewing techniques specific to India, and lead her to review her perception of colors and ornaments. A long-term collaboration then began, which continued when the designer left Fendi for Valentino, then moved to Paris to direct Dior's women's collections in 2016.
Read also:
For Maria Grazia Chiuri of Dior, we must "tell women that they are free"
At the same time, in India, a country that has historically pioneered cotton weaving, dyeing and textile printing, Karishma Swali is concerned about its growing difficulties in recruiting a qualified workforce: "Here, the know-how related to sewing and embroidery is transmitted within the family framework. There is no official institution that protects and disseminates this knowledge", she explains. Her concerns resonate with the Italian designer, who observes the same decline in interest in craftsmanship in her native country. In 2016, the Chanakya School of Craft, a sewing and embroidery school for young women, was created in Bombay under the leadership of Karishma Swali. To give work to these apprentice seamstresses, Maria Grazia Chiuri began to design, in collaboration with renowned artists – Judy Chicago, Eva Jospin and Mickalene Thomas – fashion show decorations requiring tailoring work within their reach.
You have 46.43% of this article left to read. The following is for subscribers only.