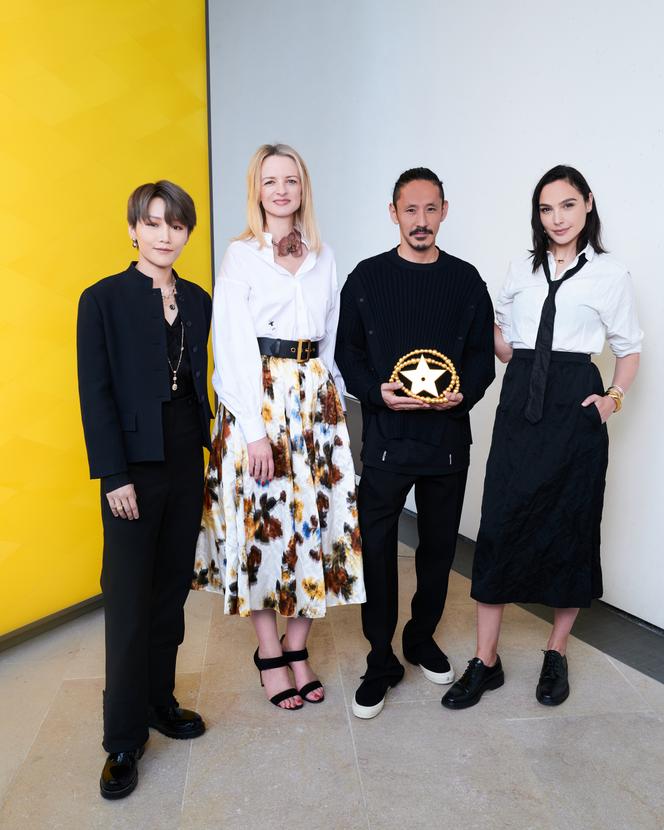 A suprise ? Not really. On Wednesday June 7, the tenth edition of the LVMH prize, presented at the Louis Vuitton Foundation, in the Bois de Boulogne in Paris, rewarded Satoshi Kuwata for his Setchu brand. The 39-year-old Japanese designer, based in Milan, really stood out from his other eight competitors.
Satoshi Kuwata was born in Kyoto, grew up in Japan before leaving to study at Central Saint Martins School in London. And then chained the complementary experiences: "I learned tailoring in Savile Row (London Street), creative madness with Gareth Pugh, streetwear with Kanye West, chic with Riccardo Tisci, couture with John Galliano. I worked everywhere", summarizes the designer. And this is felt in the perfection of the clothes he presents, both elegant and practical, sometimes modular.
The collars of his shirts are detachable and interchangeable. Thanks to its triple buttoning, a knit top can be used as a cardigan, a T-shirt or a sweatshirt depending on how you button or unbutton the different parts. Among his most impressive pieces is this wool suit jacket that cleverly folds and does not wrinkle, even locked in a suitcase. Or this jumper with zips around the waist that can be worn as a fashion item, when the zips are open and reveal the skin, or as a simple sweatshirt if they are closed – they then become invisible. "I want to let customers choose how they wear the clothes", explains Satoshi Kuwata, whose unisex wardrobe is slightly oversized, "to go to everyone".
The designer, who founded his brand in 2020, compares the evolution of his collections to the updates of an iPhone: "It's not about starting over from one season to the next, but just making small improvements: changing the shape of a pocket, expanding the range of colors, adjusting the cut of a piece. Most people have consistent tastes and desire the same thing: good clothes with a twist. »
"The jury unanimously voted for Setchu, explains Silvia Venturini Fendi, artistic director of Fendi men and member of the jury. We were seduced by his project which speaks of him, of the mixture of Western and Japanese cultures. And by his elegant, precise, detailed work. » "Thanks to his experiences in different countries, he manages to create something new. His clothes are really desirable: this crease-resistant jacket that he presents folded in a box, I wanted it! »enthused Maria Grazia Chiuri, head of the Dior women's collections and also on the jury.
Recycled costumes
Satoshi Kuwata will receive 400,000 euros and a year of mentorship within LVMH. Two other candidates were awarded the special Karl Lagerfeld prize, each accompanied by an endowment of 200,000 euros: Magliano and Better. Luca Magliano is a 36-year-old Italian designer, based in Bologna, who offers men's collections "classic but full of irony", deeply rooted in the land of Emilia-Romagna. Better is the project of Julie Pelipas, a 38-year-old Ukrainian who led a career as a fashion journalist before becoming a designer, with the intention of tackling the problem of overproduction. She only uses existing stocks of clothing, in particular costumes, which she transforms into unique outfits.
Read also:
Article reserved for our subscribers

From parade to ballet: when fashion enters the dance
"Some creators recycle, others don't, but we feel a great potential in each of them, says Sidney Toledano, chairman of the LVMH Fashion Group and member of the jury. This year also marks the return of elegance, the return to a chic silhouette, far removed from streetwear. » "It's a season with more experienced designers than usual, emphasizes Sophie Brocart, head of mentoring for the LVMH prize. Their work, very focused on product quality and craftsmanship, reflects the evolution of fashion, after years when it was more about communication and marketing. "Ten years ago, the men's and women's collections were separate. Gender diversity has gradually imposed itself, as have the issues of sustainable development which are now at the heart of each candidate's project., analyzes Delphine Arnault, founder of the prize, member of the jury and general manager of Dior.
Like last year, the jury was made up of designers from the LVMH group's flagship brands: Nicolas Ghesquière (Vuitton), Marc Jacobs (Marc Jacobs), Maria Grazia Chiuri (Dior), Kim Jones (Dior and Fendi), Silvia Venturini Fendi (Fendi), Nigo (Kenzo), Jonathan Anderson (Loewe), Stella McCartney (Stella McCartney). As well as members of the LVMH executive committee (Sidney Toledano and Delphine Arnault) and Bernard Arnault's special adviser, Jean-Paul Claverie. To bring a little glamor to the ceremony, LVMH commissioned actress Gal Gadot and Chinese singer Xin Liu to present the trophies.
A final (of nine brands) equal and cosmopolitan: in addition to the Japanese, Italian and Ukrainian winners also competed Burc Akyol, a Frenchman very inspired by the Turkish heritage of his father, or Rachel Scott (for his brand Diotima) , a Jamaican based in New York.
Winning a prize does not necessarily mean that the winner's career takes off, but of all the fashion awards, the LVMH prize is one of those which has most often succeeded in freeing up key figures in the sector by rewarding Jacquemus in 2015, Grace Wales Bonner in 2016 or Marine Serre in 2017. "I was a rambunctious boy, my mother worried about meSatoshi Kuwata had fun receiving his prize from the hands of Gal Gadot. I think now she'll stop worrying. »
"Mode of Thought", a series of great interviews with creators