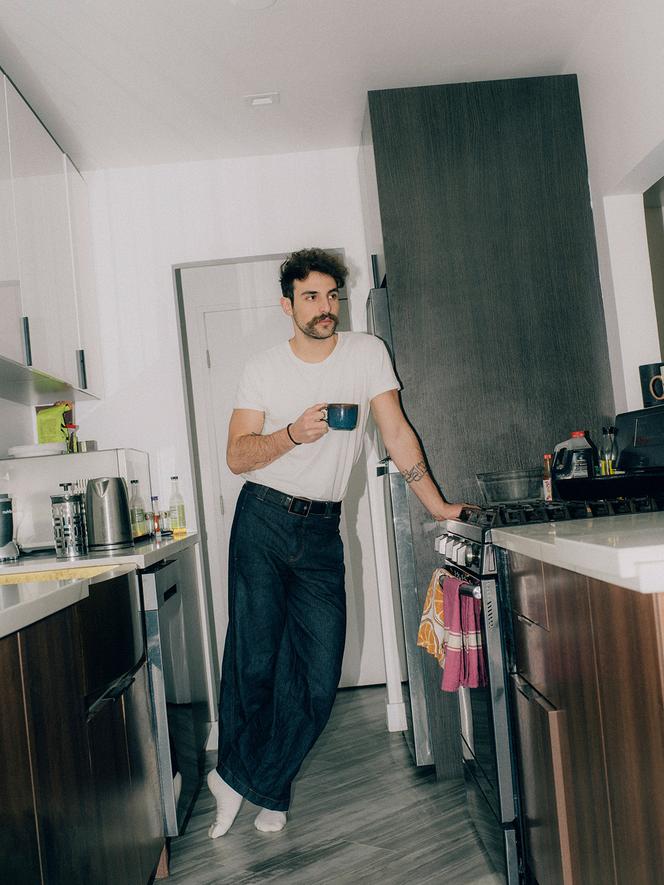 Weapon of massive seduction, gone viral thanks to TikTok, the trilingual cocktail of Saint Levant deploys its sex appeal against a backdrop of languid hip-hop and oriental R'n'B. English, Arabic and French intertwine in each of the seven titles of From Gaza, With Love, his first EP, to tell the story of a 22-year-old Palestinian rapper of Algerian-Franco-Serbian origin – Marwan Abdelhamid for civil status – whose plural identity asserts itself with as much ambition as instability , determination than melancholy. "I spoke French with my parents, Arabic with my friends and English at school," says Marwan Abdelhamid, assuring that his polyglot singing is a reflection of his history and his way of expressing himself on a daily basis.
Reached by teleconference, he talks to us from his small apartment in West Hollywood, Los Angeles, where he moved two years ago to manage his career as a musician, after studying international relations at the University of California in Santa Barbara. In perfect French, dotted with English protrusions ("at the time", "we have a global level"…), punctuated by "hamdulah" and of "wallah", the young man, born in 2001 in Jerusalem and who grew up in Gaza, dissects the family mosaic.
"My father is Palestinian-Serbian, my mother, Franco-Algerian, both were born in Algiers. They met there as children, before reuniting later in France. » Then fly to Gaza. "In 1993, at the time of the Oslo accords promising autonomous territories to a Palestinian authority, my grandfather encouraged my father to return, convinced that Gaza would soon become the Singapore of the Middle East. » Architect, the latter then built and managed a hotel by the sea on the Palestinian strip, while his wife worked for the UN.
On the side of the refugees
If, in 2001, the second Intifada forced the mother of Marwan Abdelhamid to give birth in Jerusalem, it was in the seaside setting of the hotel that the future Saint Levant grew up, then a student of the American International School in Gaza. "Seven first years of happiness", emphasizes the rapper, including several of the pieces of From Gaza, With Love evoke the memory of a sunny insouciance. "However, there were clashes, but my parents protected me from them. The bombs I heard were for me fireworks. » Until events make him switch to the side of exile. "In 2007, the Palestinian civil war and the victory of Hamas decided my parents to go to Jordan", explains the man who dreams of one day buying his father's hotel in Gaza.
You have 64.15% of this article left to read. The following is for subscribers only.