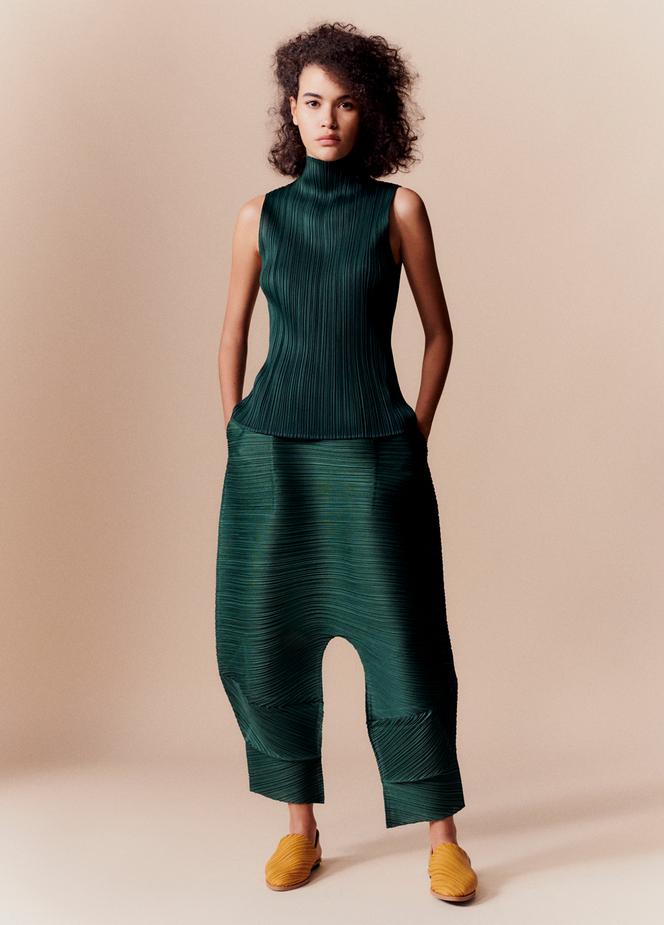 At the origin of a famous invention, there is often either a chance or an obsession. Issey Miyake's Pleats Please – lightweight, wrinkle-resistant pleated garments that have become classics – fall into the second category. The Japanese designer, who died in 2022, had a fixed idea: to revolutionize fashion design through technology and engineering by imposing his intuitions and methods in the manufacturing process. Thus, the Pleats Please were not born from a stylist's sketch or a canvas on a Stockman mannequin, but by visiting factories.
Pharaoh loincloths, Greek peplums, Scottish kilts, dresses by Mariano Fortuny and then by Madame Grès… there are many examples of pleats in the history of clothing. But the Japanese is the one who allowed the development of an industrial manufacturing technique, making it easy to live with. "It's a magical material", argues design studio Pleats Please, whose membership numbers remain secret. Above all, its folds are permanent: the clothes can be washed at home and retain their original shape even after being rolled into a ball in a suitcase.
It took four years of intensive research and testing before the Pleats Please were developed, who are celebrating their thirtieth anniversary this year. Everything depends on the quality of the fabric developed at the time. If you want to wrinkle natural fibers (Fortuny used silk, for example), the effect is usually temporary. In contrast, synthetic fibers (especially polyester-based ones) can withstand high-temperature processing and retain permanent pleating.
An antistatic ingredient for better comfort
Issey Miyake, helped by his textile designer Makiko Minagawa, therefore set out to find the perfect polyester, as he told in the book Pleats Please (Taschen, 2012). Together, they knock on the door of the main Japanese synthetic fiber manufacturers and begin a series of tests. Very quickly, they run into a cost problem, because each pleated garment requires about three times more fabric than a normal model. Makiko Minagawa therefore had the idea of ​​focusing on clothing linings (at a more affordable price), even if the idea of ​​using such basic fabrics to create a ready-to-wear piece seemed incongruous at the time. .
Among a large panel of samples, the duo chose a very light fabric (lining, therefore!), offered by the Japanese manufacturer Toray. Its diagonally spun yarns more easily support the pleating process and explain its longevity. In collaboration with Toray (with whom the studio continues to work today), Miyake adds a certain percentage of an anti-static ingredient to the threads for better comfort.
You have 37.92% of this article left to read. The following is for subscribers only.