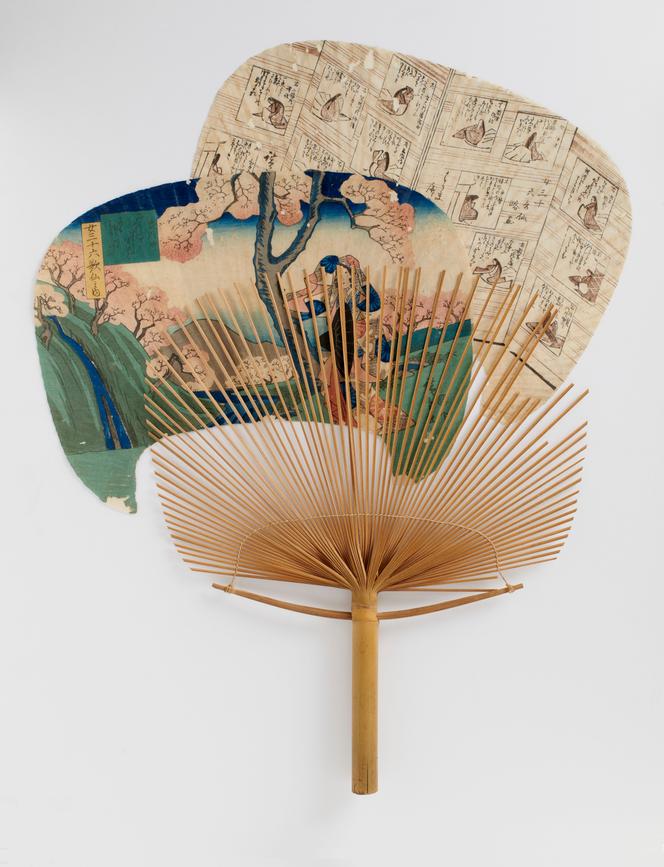 It is an everyday object of the XIXe Japanese century that the National Museum of Asian Arts Guimet is devoting its new exhibition, "Hiroshige and the fan, a trip to 19th-century Japane century ". An accessory which, at the time, "wasn't worth much more than a bowl of noodles", as Vincent Lefèvre, director of conservation and collections at the establishment, reminds us. Commonly used by both men and women to cool off during the hot and humid months, the flat fan (uchiha) – which differs from the pleated fan –, made of bamboo and paper, was sold at auction in the street or in kiosks. Adorned with flowers, animals, faces or landscapes, the accessory became a medium of expression for printmaking artists.
Perishable consumer items, these fans have, with rare exceptions, not been preserved. But models, uncut and unframed, stored in albums by publishers, protected from light and manipulation, escaped destruction. The works presented in the exhibition are signed by Utagawa Hiroshige (1797-1858), one of the masters of the Edo period (1603-1868), whose landscape engravings played a major role in the development of the " Japonisme" in Europe.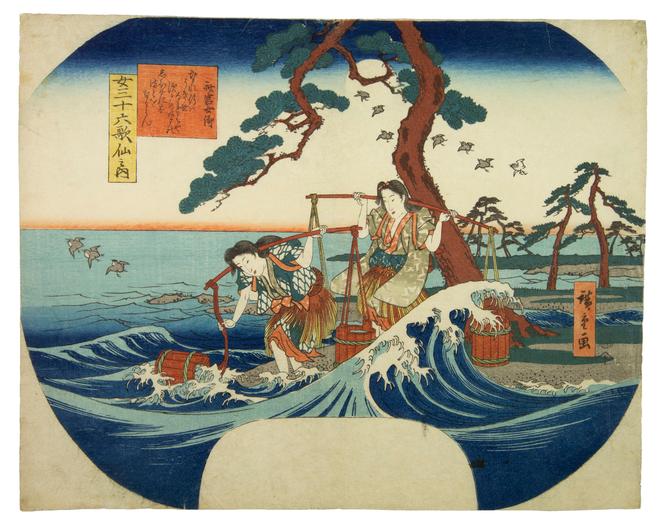 Famous, in particular, for his series of prints devoted to the roads of Tokaido (1833-1834) and Kisokaido (1835-1838), the painter produced several hundred different decorations intended to adorn fans. The pieces on display come from the very rich collection of Georges Leskowicz, a Franco-Polish enthusiast of Japanese prints, who holds an exceptional collection of first printings, these precious copies resulting from the first passage of the sheet of paper on the engraved wooden board. during the printing process.
Clever compositions
The exhibition is held in the rotunda on the second floor, where the works are highlighted by a refined scenography, in green and pastel pink colors. The whole universe of Hiroshige – landscapes varying according to the seasons, portraits of women, luxuriant fauna and flora – unfolds there on the elliptical format of the fan which allows the artist to attempt clever compositions, playing with its shape to make a wave appear, a flock of storks disappear. Armfuls of flowers with delicate gradations are offered in bouquets on the leaves with rounded corners.
We admire the splendor of the colors and, in particular, the Prussian blue, imported from Holland, which then entered the palette of Japanese artists. Hiroshige uses it abundantly to give the skies, lakes, seas and streams a hue as intense as they are luminous. Light mist, sunrise over the lake, moonlit evening: the painter combines white, pink and orange to create beautiful plays of light in the series Eight Views of Omi, presented here in its entirety – there are only two complete copies in the world.
You have 36.3% of this article left to read. The following is for subscribers only.