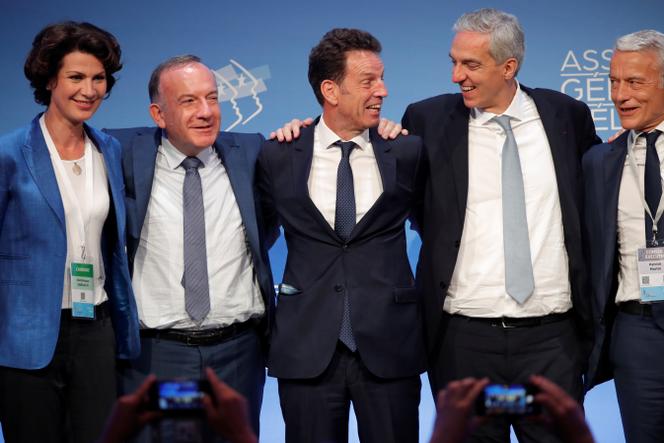 In the din caused by the pension reform, the kick-off of the competition went almost unnoticed. Since March 6, the campaign has been open to the Medef to find a successor to the outgoing president, Geoffroy Roux de Bézieux. While the election will take place on July 5 and 6, two personalities, who already exercise responsibilities at the top of the employers' organization, have entered the running: the movement's delegate president, Patrick Martin – often depicted as one of the favorites – said Saturday, March 11, while one of the vice-presidents, Dominique Carlac'h, had done the same four days earlier. Other candidates should submit their applications very soon.
Read also:
Article reserved for our subscribers

The Medef prepares the succession of Geoffroy Roux de Bézieux
This is an important moment in social democracy since the Medef is the first spokesperson for companies, if we consider the number of employees employed by its members (9.3 million workers). Its influence is decisive in joint institutions that it co-manages with several components of employers and trade unions – in particular unemployment insurance and the complementary private pension funds Agirc-Arrco. It is a voice that is taken into consideration by the public authorities, even if the interests it defends are supported by other actors at least as influential as it – in particular the French Association of Private Enterprises, which represents the biggest French companies.
The Medef has enacted rules so that the process leading to the appointment of its leader takes place in four months – a relatively short sequence compared to previous elections. When Mr. Roux de Bézieux won in July 2018, the race had started the previous fall, with fratricidal quarrels and an unsuccessful attempt to rewrite the statutes to allow Jean-Dominique Senard, then leader of Michelin, to introduce himself. Precautions have therefore been taken to prevent such events from happening again.
No "major ideological difference"
Between the suitors, there will be no "major ideological difference"as M. Roux de Bézieux pointed out on 1er March, during a press conference: none of them, he added in a humorous tone, will plead for "a tax increase or the reinstatement of the health, safety and working conditions committee", a staff representation body abolished at the start of Emmanuel Macron's first term. In other words, those who covet the chair of "boss of bosses" will militate in favor of the "supply policy"that is to say strong support for companies synonymous with new reductions in compulsory levies.
You have 51.12% of this article left to read. The following is for subscribers only.