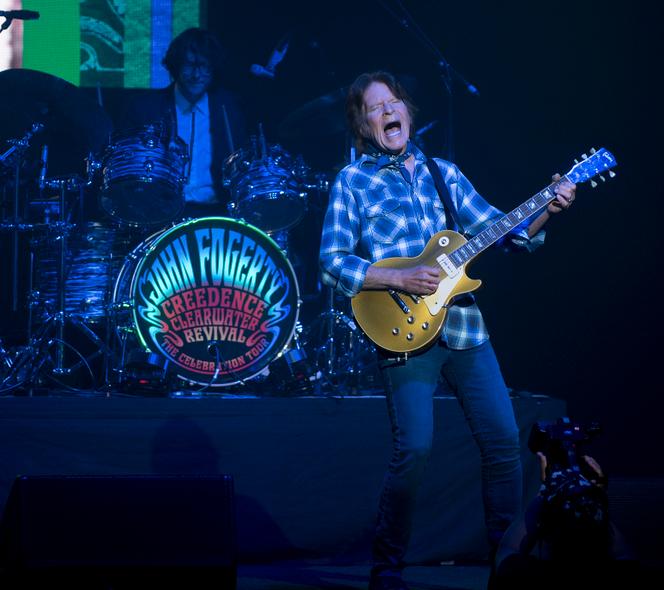 His previous concert in France – at the Grand Rex in Paris – went back fifteen years, so the opportunity to hear him on Wednesday May 31 at La Seine musicale, in Boulogne-Billancourt (Hauts-de-Seine), was perhaps the last in this country. John Fogerty is indeed playing extra time (he was born on May 28) to celebrate his 78th birthday on stage.e anniversary. His fans sing a happy birthday and he toasts, champagne flute in hand branded with the name of one of his hits, Fortunate Son (1969), which will become a hymn against the American intervention in Vietnam and also son of no one in the mouth of Johnny Hallyday.
A surly rock'n'roll that symbolizes the place occupied by the former leader of the group Creedence Clearwater Revival in American music: a populist hero (in the acceptable sense of the term), defender of the humble against the interests of the powerful, protester but not radical. A pure democrat, a model for Bruce Springsteen and the Americana revivalist movement.
In 2023, it still costs at least 115 euros to participate in its Celebration Tour. What the veteran is celebrating here is a hard-fought victory, after half a century of legal proceedings: since January, he has once again owned the rights to the songs composed for his former group, i.e. almost all of Creedence's repertoire. .
Revelation Prophecy
His case was inequitable in the world of music publishing, at a time when naïve young people could sign recording contracts for twenty albums (which he did in San Francisco with Saul Zaentz, the boss of Fantasy Records, in 1964) and cede the artistic property. After the break between the two men, the case will take a grotesque turn when Fogerty is dragged before the courts for having plagiarized one of his own songs. Today he performs both, The Old Man Down the Road (1984) and Run Through The Jungle (1970) and can dig into those he wrote for Creedence without fear of enriching his worst enemy – who died in 2014 – as in the past.
He does not deprive himself of it since out of twenty titles, sixteen belong to his glorious past. To start with Bad Moon Rising, a prophecy of the biblical Apocalypse and sufficiently literary for Stephen King to place it at the forefront of his novel Shining. For an hour and a half unfolded one of the most beautiful chapters of American rock, which goes from Bayou Country, Creedence's second album from early 1969 to penultimate, Pendulum, end of 1970. Between these two close limits, a dozen exceptional hits. Fogerty had all the talents: an exceptional songwriter naturally mixing rock'n'roll and country, rhythm'n'blues and folk, an ideally aggressive singer, a killer on the guitar inspired by his admission by "the riffs of Muddy Waters and Willie Dixon"and even producer.
You have 37.44% of this article left to read. The following is for subscribers only.