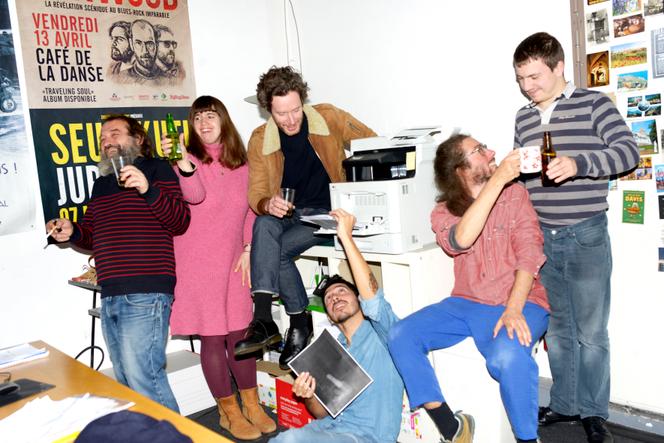 No bar for this aperitif. They are too numerous and have a more flamboyant idea in mind. See you, instead, in the mythical Ferber studios of the 20e district of Paris. These recording studios have hosted, among others, Gainsbourg, Bashung, Delpech, Louise Attaque. And so, in this early December evening, more than half of the Astereotypie collective, which has, according to the turmoil of life, a dozen or so members.
First, there are Stanislas Carmont and Claire Ottaway, two singer-songwriters with recognizable voices among a thousand. They are accompanied by Christophe L'Huillier on guitar, Eric Dubessay on drums, Arthur B. Gillette on bass and Benoît Guivarch on keyboard. The latter brought back beers, chips and sodas. They laugh a lot and, between two valves, pour a colossal dose of tenderness on their singers. Because these, suffering from autistic disorders and capable of prowess on stage, are a surprising, relevant and, in a word, formidable company.
Read also:
Article reserved for our subscribers

What is autism?
For the photo in the offices on the first floor, Claire and Stanislas pose with a beer but, in real life, they confine themselves to tea or Coke. "Astereotypy is enough to give me pleasure. I don't need alcohol"summarizes the singer, to whom we owe the flagship title of their latest album, No guy looks like Brad Pitt in Drôme, released in April 2022. It's also one of the most catchy — and certainly truthful — choruses of the year. In the song, the phrase that punctuates this observation is: "Real life is annoying. » Is it really, for this atypical group, which fascinates as much as it seduces? "As an artist, real life is extremely irritating, once you've met these people, says Arthur, pointing to Claire and Stanislas. Everything is bland, bottomless banality. Like crisps that have remained at the bottom of the package and have become soft. That's real life outside the band. »
A unique experience
We believe it. Astereotypy is a new, unique experience. The barely believable story of a workshop at the medico-educational institute (IME) in Bourg-la-Reine (Hauts-de-Seine), launched in 2010 by Christophe L'Huillier, educator and musician. He asks young people with autism to write about their lives, what's going well, what's not, everything that goes through their minds. From this poetry workshop emerge texts with ultra-sensitive surrealism. Christophe, joined by Benoît, soon composes small musical arrangements to accompany them.
You have 67.81% of this article left to read. The following is for subscribers only.